The Jungle Steeple and Fail's mansion
Constructed in mid-july of 2019 by the player TheDanishDreams, The Jungle Steeple is the result of pure spontaneity unlike TheDanishDreams' other works (this includes other builds like Atlantis), which were carefully designed and thought out.
Purpose:
TheDanishDreams wanted to create a beacon so he could always find his way in the dense and dark jungle that surrounded his and FailProduction's base. The tower was built after they both abandoned Atlantis, deemed it a relic of the past and pursued a place they could truly call their own. Not a relic, not a ruin, a place they could call home.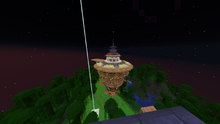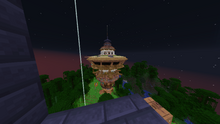 Atop the tower, the Atlantis library can also be found, containing numerous relics from Fail and DanishDreams' time in Atlantis.