The Sandman Will Keep You Awake - The Loop
Play Sound

The Overworld Highway Corporation (OHC), shortened to Overworld Highway Corp., is an organization that mines, constructs, and maintains highways in the server's overworld. It was founded on October 1, 2019, by Melofors and Splash, and was active through the month of October. The corporation was partnered with The Varden.
History
The +Z Axis Highway became the first axis highway in the server's overworld when it was mined by Melofors from 2k to spawn on August 21, 2019. In late-September 2019, it was expanded to 4k by Splash, who also built two outposts along the highway, called Alpha and Beta (the Alpha Outpost built on the place of Free food station, founded by Petr2015). The two met up and founded the Overworld Highway Corporation on October 1, 2019.
The corporation was joined by several people, including a few members of The Varden such as Mrska999. A partnership between the two groups was confirmed by The Varden's leader, EDAMI, on October 6, 2019, and Mrska999 donated pickaxes to the corporation on behalf of The Varden.
The +Z Axis Highway was later expanded to 10k, a third outpost called "Gamma" was built, and the first 1k blocks of the +X Axis Highway were mined by Mrska999. A ring highway 100 blocks around spawn was dug through the lavacasts by Melofors. All three outposts and portions of the +Z Axis Highway were griefed by Caudimorda. It was decided that no more outposts should be built, as the effort would soon be lost.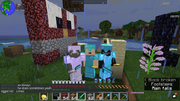 Splash later went inactive due to real-life stuff. Mrska999 quickly took the place of Splash. His connections with The Varden allowed him to supply the corporation with pickaxes. Melofors left the server in December 2019 due to problems with his computer and plans to return around June 2020 with a newly-built PC.
Member stories
Melofors - joined and began digging +Z highway in late August 2019 before co-founding the OHC with Splash on October 1, 2019
Splash - expanded and built outposts on +Z highway before co-founding the OHC with Melofors on October 1, 2019